Uloveme is a famous player from Hong Kong, known for holding second place on the hiscores, around the time Zezima held the number one place. Before Uloveme fell down the rankings on the hiscores, she had obtained 1 billion total experience, making her the second person to ever reach this amount of experience. She also held a top 2/3 spot on the highscore for a long period of time, and reached rank #1 a number of times. Her history and work have been known to the RuneScape community for a long time.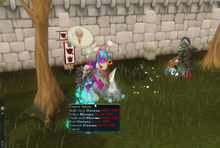 Uloveme also had one of the most well-known friends chats, even after her disappearance.

'
Ad blocker interference detected!
Wikia is a free-to-use site that makes money from advertising. We have a modified experience for viewers using ad blockers

Wikia is not accessible if you've made further modifications. Remove the custom ad blocker rule(s) and the page will load as expected.